Yesterday was a glorious day in many ways! I finally took the plunge and officially launched my private coaching practice, Agape Heart & Soul, at the Expat-Expo in Basel. Yooohooo!
The journey that led up to that day was an exciting and tumultuous one! 🙂
09 November 2022: Table 59 booked
It started out with my very dear friend, Iriny, sharing with me an e-mail about the Expo, wondering if it might be "something of interest" for me.
Expat-Expo is a one-day, admission-free event designed for the English-speaking residents of Switzerland, with everyone else also welcome of course. The event is intended to gather various local English-speaking businesses, organizations, museums, clubs, and service providers under one roof to showcase their goods and services. Running since 2006, it conducts annual expos in Zug, Basel, Zurich, and Geneva with hundreds of different companies exhibiting and attracting thousands of visitors per year.
So, yes, of course I was interested to participate! So, I went ahead on 09 November 2022, and booked my table: Table 59 on the visitors' way to the Bouncy Castle :). As a side bracket… My coaching mentor and former Cambridge professor, Roger Fielding, commented that "table 59 (on the way to the Bouncy Castle)" could be perhaps a metaphor for life? – because we all need a coach as we meet the challenges of our own real life 'bouncy castles'." How very true indeed…. 🙂 
In any case, sometime in December, I realised that maybe I should start thinking about that table of mine, and how I want to present myself. But I'll be honest with you, the idea felt somewhat daunting, being the introvert that I am, and so, like any good coach, I procrastinated… 🙂
09 December 2022: Awakening
My "awakening" moment happened with my other very dear friend, and fabulous coach, Jenny Pullen, with whom I was having a peer coaching session on December 09. We are both on the Advanced Gestalt Coaching Diploma, and luckily, we had a couple of peer coaching sessions planned that month.
Thanks to her amazing coaching and infectious joyous personality, I was able to leave the session fully energised, and with much more clarity re. what I wanted to do:
I wanted to have a "hospitality" table, where people feel welcome and at home. And it wouldn't be a Swiss-Egyptian hospitality table without some food. So, I planned to offer home-baked oat-cranberry cookies, and of course chocolate! 🙂

I was going to have business cards, and two roll-up banners detailing who I am, and what I do.

And I decided to do a prize-drawing to win free coaching sessions with me.
Armed with this new clarity, I started drafting the content of the business cards and banners – and also here, Jenny was a big support to me, helping me keep things crisp and clear – Thank you Jenny! And then, I set out to find a professional graphic designer to re-work my logo, and create the design for my contents.
Mid December: Graphic design can begin!
I was very lucky to find Dayna Aldermann, Graphic Designer based in Ohio, USA, through LinkedIn's services. She was not only available at a very short notice, working through the holidays, but she was also a wonderful soul and talented designer. Thanks to her amazing work, I knew I was going to have a professional presence at the expo.
   New company logo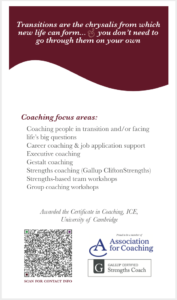 Business card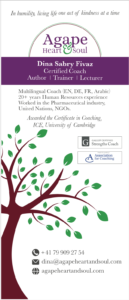 Roll-up banners
And, because I seem to enjoy the stress of last-minute decisions so much, about a week days before the expo, I decided that the event would be a great opportunity to advertise my Group Coaching workshops as well. And again, Dayna came to the rescue when it came to designing the flyers.
Sample Flyer
I would be lying if I said it was all smooth sailing… Getting everything designed, printed, and delivered on time was a challenge. There was a lot of stress, even some tears along the way, but eventually, things got somehow sorted. The day before, I baked more than 80 cookies, and prepared all the materials we needed for the day. We were ready! 🙂
29 January 2023: Setting things up
My husband and I left in the morning to the Congress Centre in Basel to set-up our table. I was so grateful to have his support on the day! Here we are setting things up 🙂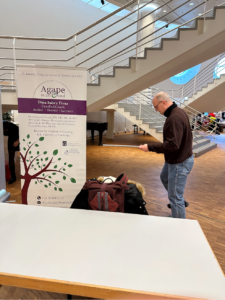 It was 10:20, and we were all set-up to welcome the first expo visitors at 11:00, when I realised, with horror, that we had left my prize drawing papers and Group Coaching workshop flyers at home!
So, my very dear hubby sprinted out to get them; and we were all set, just in time for the first visitors arriving. Thank you, Paddy! And, that's what relief looks like! 🙂
Amazing Expo with Amazing Exhibitors
I enjoyed every single minute of the expo!
I met so many wonderful people, and had great conversations with a variety of visitors. Some had just arrived in Basel a few weeks ago; some were just about to embark on a new journey in a new country in a few months time; others had been in the country for decades. I met people from all walks of life, across nationalities, from every single continent. Some were in need of career coaching and career-related support. Some were grappling with questions around meaning, life purpose, and how to balance the many different hats and roles we play in life. Others were like me, coaches about to embark on their self-employment journey. And one highlight was meeting a lovely dad, who started practicing his Arabic with me, which was amazing!
Another big highlight was meeting some of my former colleagues from Roche, who took the time to come and visit me at my table. Thank you to Mat, Aysem, Manuela, Teresa, Naomi, Shireen, Ciaran, and Bron for coming by – you made my day!!! And thank you to Iriny who also came for a visit, with a beautiful bouquet of flowers:
From a business perspective, I hope of course that a few seeds were sowed that day, that will come to fruition when it's time. But, regardless of the outcome, I can look back on a meaningful and joyful day. And I can look forward to connecting with my 25 prize-award participants, and to the coaching with my 3 free coaching prize winners (whom I still need to reach out to).
A special shout out also goes to the following fellow exhibitors who made this day extra special:
Debbie Lindenmeyer – Adult & Child Counsellor with a warm soul, and a bright smile.
Nadia Winzenried – Photographer with amazing talent, and a big heart.
Remigi Christen – Owner of Arbuckels Bagels – offering absolutely delicious bagels, which you can order online or buy at the Markthalle in Basel on Thursdays.
Streichquartet "Lviv Virtuosos" – four fabulously talented female musicians, I believe from Ukraine, who graced the event with their beautiful music and passion.
Zoca events – who had the most spectacular looking booth on the day! Their job is to decorate and cater events, and they sure know how to make it memorable!
And last, but not least, my amazingly talented friends from Paint It Easy, were also there – sharing their love and passion for art with all visitors.
I now regret that I did not take more pictures of the exhibit itself, and with all of my newly found friends… but I'll be sure to do so at the next Expo… 🙂
Thank you Ed & Melanie from Expat-Expo!
The Expat-Expo is a private endeavour, run by Ed and Melanie. As you can imagine, it's a HUGE undertaking, and one that sadly ended with a loss for them, as they had 30% less exhibitors in Basel this year than in the past. Booking the location alone cost them CHF12'000.-!
So I am incredibly grateful that they made yesterday possible! And I am even more grateful that they provided a discount to small business owners like myself – despite not having increased their prices in the last 15 years.
@Ed, Melanie: A HUGE thank you to you for making this happen! I wish you every possible success with the upcoming expo in Zug on May 7. And I hope to be able to join you again this year in Zurich and Geneva, and hopefully many more years to come. 🙂